Driving Impressions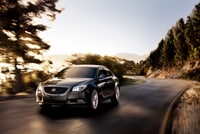 The Regal is firmly sprung for a Buick yet quiet by any standard. Rough road surfaces admit a little noise from the rear tires and there's a bit of wind noise from behind at speed, but the new Buick Regal has to be among the quietest cars in its class. Even with the engine at maximum it's barely above background noise and doesn't give any audible hint it's working hard.
The Regal rides well, with minimal intrusion from road imperfections. It has a very solid feel, and one of substance in keeping with its weight. Driving it hard or fully loaded at speed will belie that, however. While bred on the autobahn it has been tuned for comfort and the rear suspension damping is quite soft. An Interactive Drive Control System, standard on Regal GS, optional on the Turbo, allows the driver to select different suspension settings and steering sensitivity. Pressing the Sport or GS buttons while cruising along noticeably firms up the shock damping, a good thing to do when driving hard. The normal mode better filters out vibration and bumps in the road, however.
The Regal is an excellent touring car for extended ventures or simply long commutes where the soothing could be beneficial, but it is not a sports sedan. The turbo makes it a sporty sedan, while the Regal GS is more of a sports sedan. It's front-wheel drive, however. True sports sedans are rear-wheel drive.
The 2.4-liter four-cylinder that comes standard provides 182 horsepower and 172 pound-feet of torque. It needs to be revved to get the most out of it, and a 3600-pound Regal with a pair of people in it can use every one of those ponies. It's quite satisfactory around town or on the open road, but you'll be pushing it when climbing a mountain grade or passing a truck on a two-lane.
Regal with eAssist adds to this a small electric motor to assist the 2.4-liter four-cylinder engine in certain situations, boosting the fuel economy rating to an EPA-estimated 25/36 mpg City/Highway. It works just like the standard model except the electric motor gives it a 15-hp shove when taking off from intersections or going up hills, resulting in better acceleration performance and better fuel economy, the best of both worlds. The engine shuts off when you stop for traffic signals, for example, then seamlessly restarts when you step on the accelerator.
The Regal Turbo adds about 40 horsepower but far more important close to 90 pound-feet of torque and at much lower revs. This makes the Regal more relaxed, downshifts happen less often, and it feels much more powerful than the 1-second quicker to 60 mph implies.
With the 6-speed manual gearbox, clutch effort is easy. Shifting is smooth from the short shifter. It reminds us of a manual on an upscale German sedan.
Fuel economy from the standard Regal is an EPA-estimated 19/30 mpg City/Highway. By comparison, the Mazda6 gets 21/30 mpg, the Audi A4 is rated 23/30 mpg, the Acura TSX 21/30 mpg, and the Volkswagen Passat 22/31 mpg.
The steering provides good feedback, feel and directional stability. It doesn't have the crispness or feel of a sports sedan. It's tuned for easier cruising. Brakes are up to the task, and both the gas and brake pedals are calibrated such that they require some foot travel before you get into heavy braking or kick-down acceleration rather than the instant bite of a sports sedan.
The Regal GS delivers 270 horsepower and 290 foot-pounds of torque from its high-output 2.0-liter turbocharged four-cylinder engine with dual overhead cams, four valves per cylinder, direct fuel injection, a complete 3-inch exhaust system, and 20 pounds of peak turbo boost.
The 2012 Buick Regal GS is the first hot-rod Buick to come along in many years, and it's a treat to drive. Stand on the throttle while in second gear at a slow speed and it'll break the front tires loose on wet pavement (if the traction control is turned off). Stabilitrak keeps the front wheels from spinning, however, important in the rain. We were impressed by the quickness and smoothness of the powertrain, the steering response, and the braking power when you really need it. More important, it isn't a hammer. The ride is firm but it isn't harsh. Overall, the Regal GS feels like a refined car.